Austin Bergstrom International Airport Hotels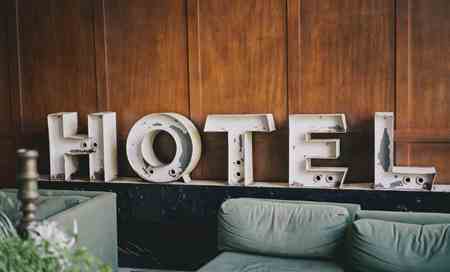 There are numerous hotels in Austin, Texas that may suit your lifestyle. These properties offer a variety of lodging options for your needs, from rooms, suites, villas, and cottages, and more.
Many hotels in Austin not only offer complimentary breakfast, an indoor pool, hot tub, and 24-hour fitness center but an escape from the rest of this fast-paced bustling city.
Hotel Granduca Austin
Address: 320 South Capital of Texas Highway Bldg B, Austin, TX 78746, United States
Luxury meets guests at the doorsteps of this hotel. Visitors looking for a luxurious hotel with resort-style amenities can look no further than the Hotel Granduca Austin. Located in the heart of Austin, Texas, this hotel offers designer 194-guestrooms and suites with 24-hour butler service and valet parking.
The hotel offers a variety of amenities that both business and leisure travelers will thoroughly appreciate. Guests have access to a fitness center and a spa, which provides a serene atmosphere for those looking for a moment of tranquility.
This Italian villa-style accommodation is 5 miles from 360 degrees Bridge and Barton Springs Pool.
It is also close to Zach Theatre, Moody Theater, Mayfield Park, Zilker Metropolitan Park, Texas State Capitol, Harry Ransom Center, Umlauf Sculpture Garden & Museum, The Blanton Museum of Art, Lost Creek Park, and The Bob Bullock Texas State History Museum, among others.
Guests can enjoy an upscale dining experience at the on-site restaurant or have a cocktail at the lobby lounge that features intricately patterned wood floors and antique carpets.
Several restaurants found around this facility include Visconti Ristorante & Bar, The Grove Wine Bar & Kitchen, Hat Creek Burger Company, Lola Savannah Coffee Lounge Westlake, Lupe Tortilla, Kerbey Lane Cafe – Westlake, and Jack Allen's Kitchen, among others.
Four Seasons Hotel Austin
Address: 98 San Jacinto Boulevard, Austin, TX 78701, United States
Four Seasons Hotel Austin has been welcoming guests with the fresh taste of Texas since 1986. Texas hospitality is prevalent throughout the hotel.
Located in the heart of downtown Austin, the Four Seasons Hotel Austin is the epitome of modern luxury. From business-class accommodations to on-site dining, they are committed to making their guests' stay memorable.
The most stunning feature of the property is its world-class cuisine. It is home to a bar and restaurant, which offers delicious comfort food and drinks. Its fine dining options include a Latin-inspired restaurant, Ciclo, and an elegant Live Oak lounge.
Guests can also try several fine restaurants available nearby such as
Eddie V's - 5th Street, Perry's Steakhouse & Grille, The Backspace, and Taverna Pizzeria & Risotteria, among others.
Some local attractions close to the hotel include Gallery of the Republic, Brass House, Congress Avenue Bridge / Austin Bats, Austin Convention Center, Austin City Limits Live, South Congress Avenue, Stevie Ray Vaughan Statue, Austin Visitor Center, and Congress Avenue.
Austin Proper Hotel & Residences
Address: 600 West 2nd Street, Austin, TX 78701, United States
The Austin Proper Hotel & Residences opened in December 2019 amid downtown Austin's continued building boom of residential, hotel, office, and mixed-use high-rise towers.
The 32-story hotel has plenty of space and offers complimentary WiFi and parking. Its 244 rooms offer a large workspace and complimentary tea and coffee service. The rooms and suites are defined by an eclectic mix of ceramics and artwork and hand-raked cabinet inlay tiles.
With amenities such as a fitness center, a rooftop pool, a spa, a salon, and a pet-friendly policy, this is a hotel that everyone should experience.
It has a rooftop bar with 360-degree views, which makes it a great romantic location for couples. On the 5th floor of the Austin Proper Hotel is La Piscina, a convivial poolside restaurant, and bar serving Texas-inspired Mexican cuisine
The establishment is very convenient to numerous attractions in the city, including The Moody Theater, Austin Music Hall, Austin City Limits Live, Texas State Capitol, St. Mary's Cathedral, the University of Texas at Austin, Darrell K Royal-Texas Memorial Stadium, Millett Opera House, and The Frank Erwin Center, among others.
Colton House Hotel
Address: 2510 South Congress Avenue, Austin, 78704, United States
Colton House Hotel is one of the most luxurious accommodations in the city. The property has 80 spacious guest rooms and suites and offers an on-site spa, tennis court, and fitness center. Guests at this hotel will also enjoy sunrise yoga.
The hotel is ideal for business travelers who need to stay productive during their stay. With a library and resort-style pool, this location also offers a refreshing escape from a long day of work or play. The common areas of the hotel were designed with French country décor.
The hotel is located on Congress Street in vibrant downtown Austin. Boasting views of the Texas Capitol building, this boutique hotel has everything guests need to make their stay in the city unforgettable.
It has a full-service restaurant for guests to enjoy breakfast, lunch, or dinner.
Several local and international restaurants near Colton House Hotel include Taste of China Express, Mandarin Chinese Restaurant, Habana SoCo Restaurant, New India Cuisine, Torchy's Tacos, Habana, Curra's Grill, and Habanero Mexican Café, and many more.
Kasa Austin Downtown
Address: 201 Lavaca Street, Austin, TX 78701, United States
Kasa Austin Downtown Hotel is within a 10-minute walk of Sixth Street, Lady Bird Lake, and Austin Convention Center.
The staff at this hotel is friendly and eager to offer assistance to its guests. Furthermore, this is a non-smoking hotel, which is ideal for those who may be allergic to cigarette smoke.
Guests of the hotel also have access to customizable room service menus for food and beverage options. Several restaurants close to this facility include Eureka!, Cedar Door Patio Bar & Grill, and The Capital Grille.
It has an outdoor pool, a restaurant, and a 24-hour fitness center. Free WiFi in public areas and free self-parking are also provided. Additionally, a bar/lounge, a rooftop terrace, and a 24-hour business center are onsite.
All 20 individually decorated rooms have comfortable premium bedding and microwave ovens, coffee/tea makers, and hair dryers.
Recommended Hotels Near to Austin Airport
Find Hotels near to Austin Airport
Frequently Asked Questions - Austin Airport Hotels